Planning My next dawn shoot
I was out today, in the rather hot sun, scouting out my next dawn shoot, which will hopefully be tomorrow morning.
A potted history of Minerve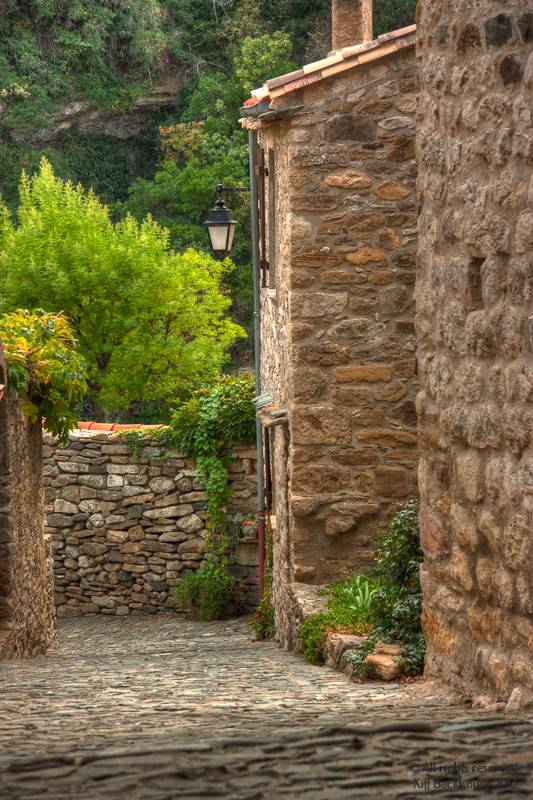 For those of you not familiar with this amazing village, it is built on a lump of rock, with the river Cesse on one side and the Petit-Cesse on the other, which both meet at the southern tip of the village.  On the left-hand side of the Photo, you can just make out an entrance to a cave which is the course of the Cesse when it is flowing.
During the summer months (and often many more months than that) the two rivers flow under-ground and surface about 10kms further down the valley.
The village is probably named from the fact that there was  a Roman temple to the Goddess Minerva here back during the Roman occupation 118BC to 208AD.
During the Cathar wars (or more correctly the Albigensian Crusade) between 1209 and 1229, Minerve was a strong hold where many Cathar Parfaits took refuge.  It was beseiged by Simon de Montfort, who setup huge catapults on the surrounding cliffs and bombarded the village for months. Eventually, a truce was negotiated, which included the handing over of  the 180 Cathar Parfaits who were then burned at the stake on 22 July 1210.
The Present Day
Minerve is now a popular beauty spot and has been elected as one of  "Les Plus Beaux Villages de France". Small winding streets, little shops, great views across (or down into) the gorges and a range of restaurants serving traditional French food.